Parents: September 18th is a virtual school day but students can still receive meals. The TASD Child Nutrition department will send home a breakfast and lunch with students Thursday September 17th. This meal will need to be immediately refrigerated. If your student would like a meal please return the green slip no later than Wednesday, September 16th. It was sent home today.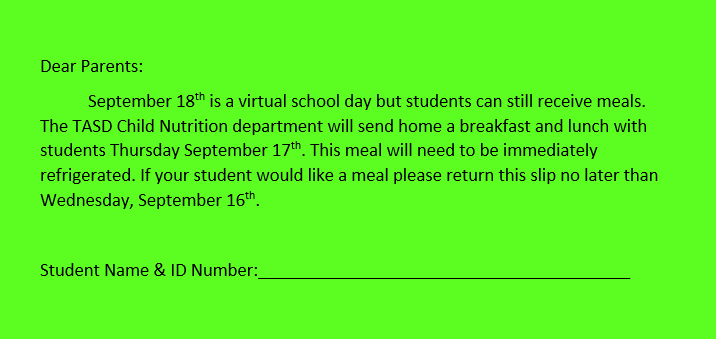 Thursday, September 17th - VIRTUAL Parent-Teacher Conferences Friday, September 18th - VIRTUAL Learning Day - No school for students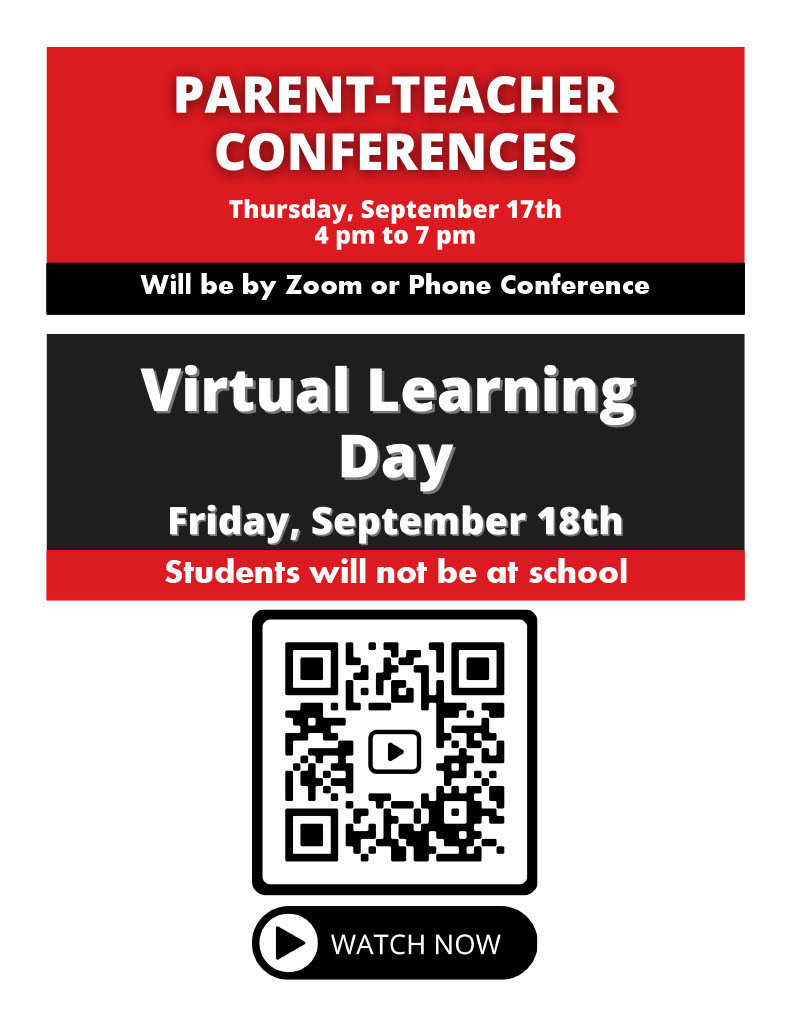 Don't forget to wear red or your favorite Razorback attire every Friday!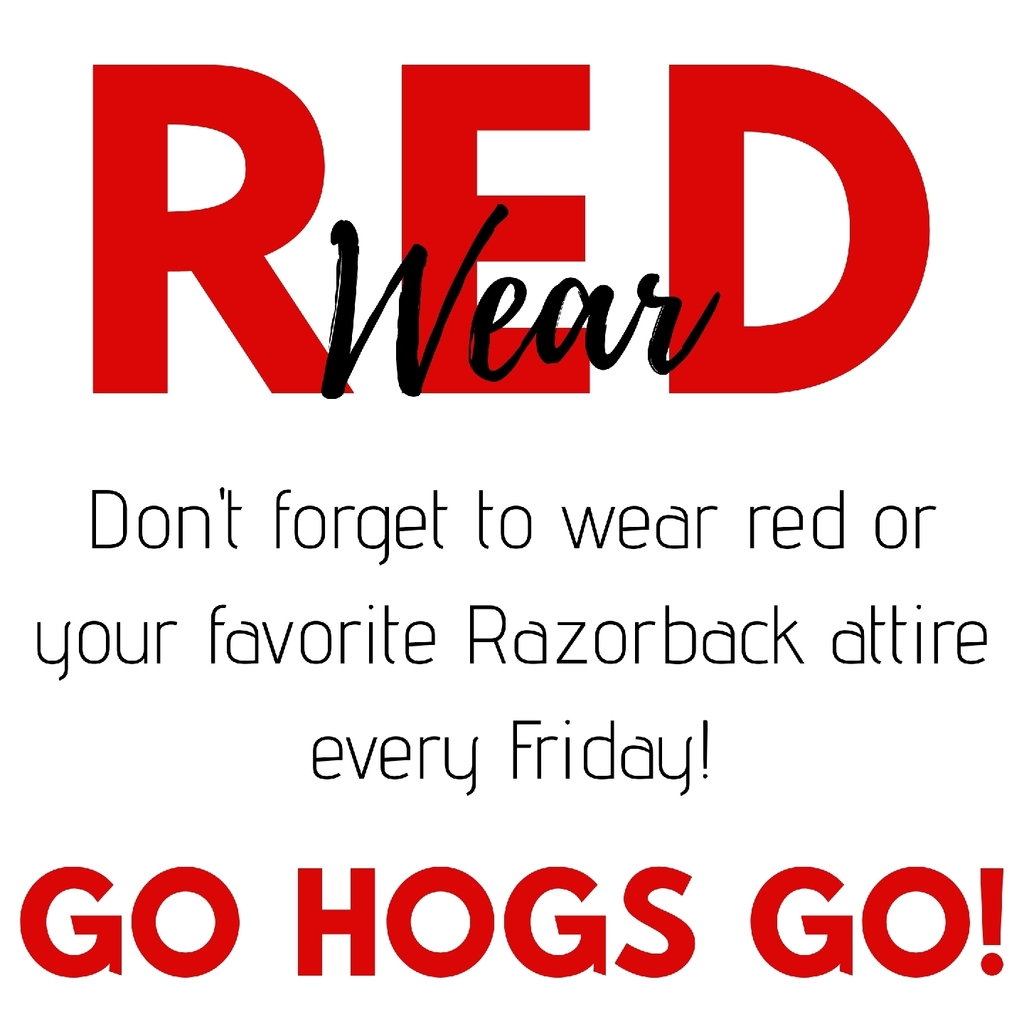 A huge "Thank You" to the United Methodist Women of the Texarkana Arkansas First United Methodist Church for the cleaning products, facial tissues, PPE, and 400 student facemasks!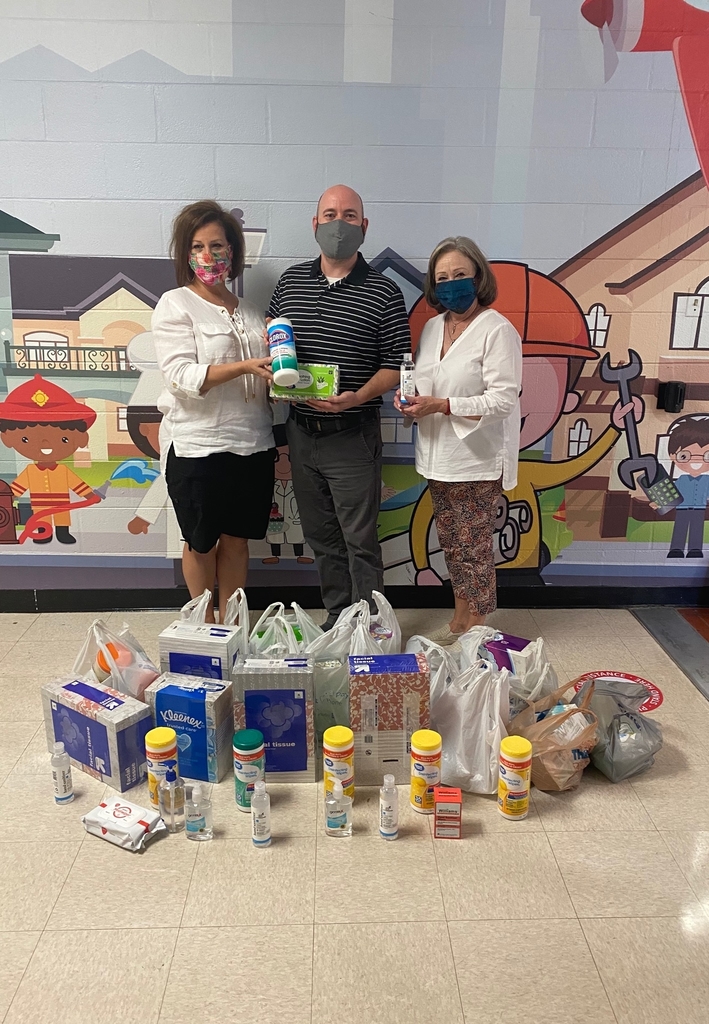 Meals for Virtual and Hybrid Students - Meals are now available to order online for Virtual and Hybrid students. You must place your order using the Send Money to School link:
http://www.sendmoneytoschool.com/
located on the district website –
www.tasd7.net
under the Parent/Child nutrition tab. Virtual students must select a full week of meals. Hybrid students should only order for the days they have off-campus learning. Meals are available for anyone under the age of 18 years old – this includes children who do not attend the Texarkana Arkansas School District. However, those orders must be called in to one of the school meal pick-up sites You may place your order Monday-Thursday for the next week. Pick-up is Monday morning from 8 a.m. to 10 a.m. at one of the pick-up sites. The pick-up sites are: • North Heights Junior High - 870-773-1091 2118 East 35th Street • Union Elementary - 870-772-7341 1701 Line Ferry Road Please note if there is a holiday, the date and time will change.
Congratulations to Ms. Campbell on winning the Commercial National Bank Back-to-School Giveaway! A very special thank you to CNB for supporting our local teachers!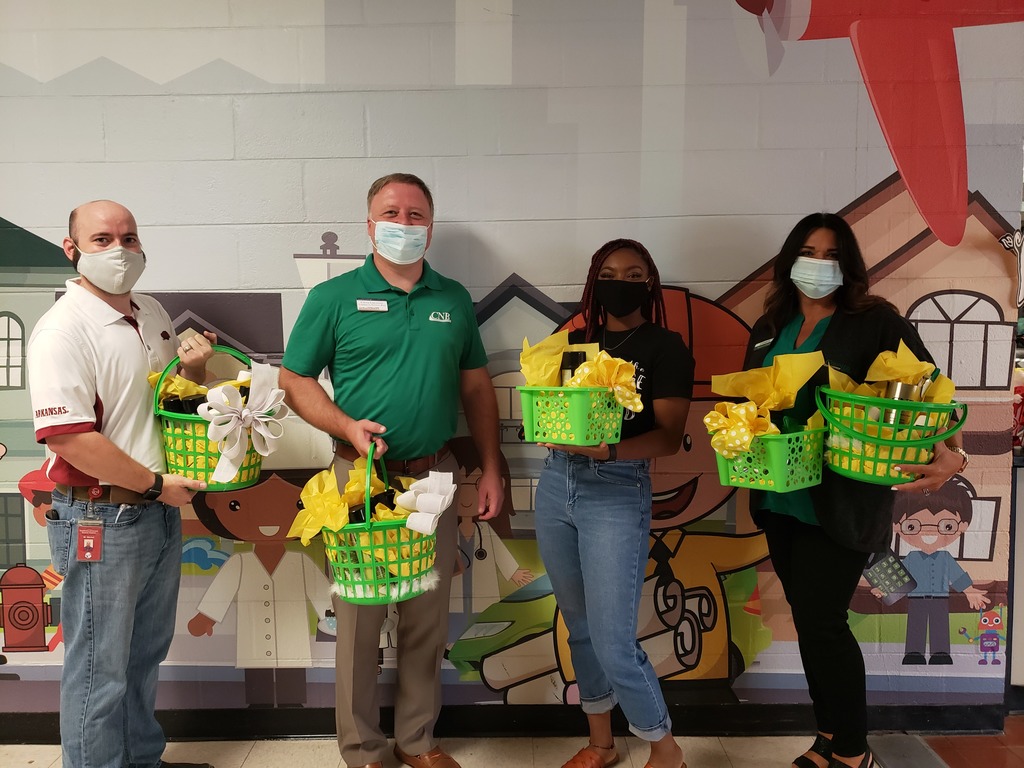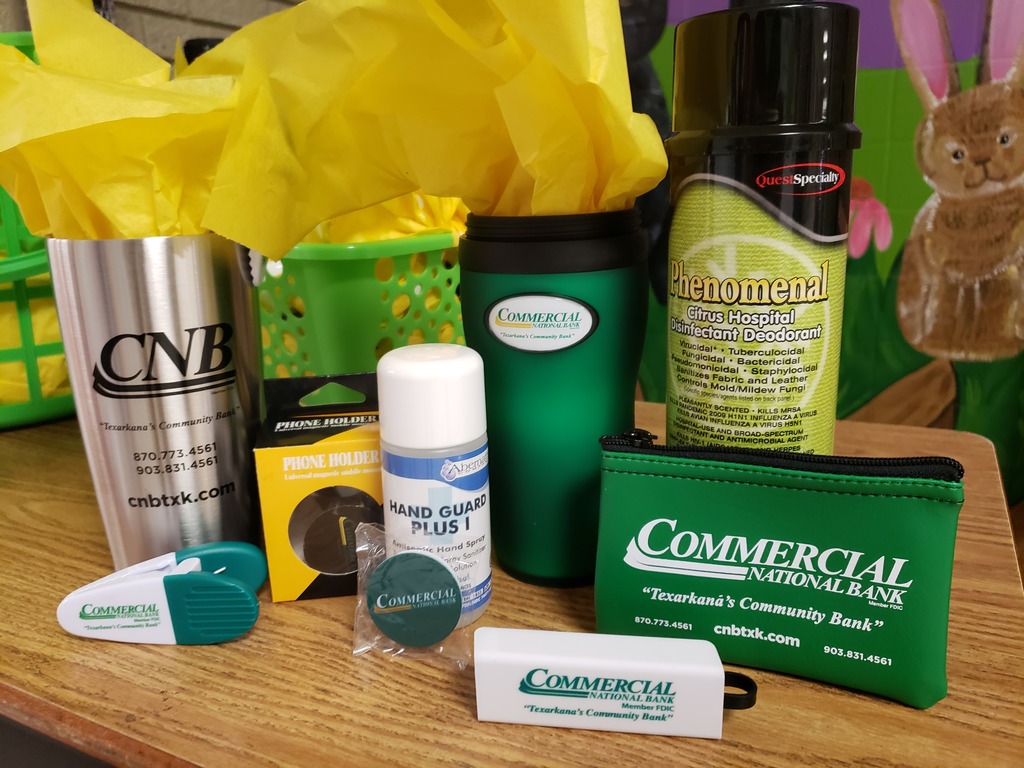 Virtual parents: Please return any overdue library books when collecting technology.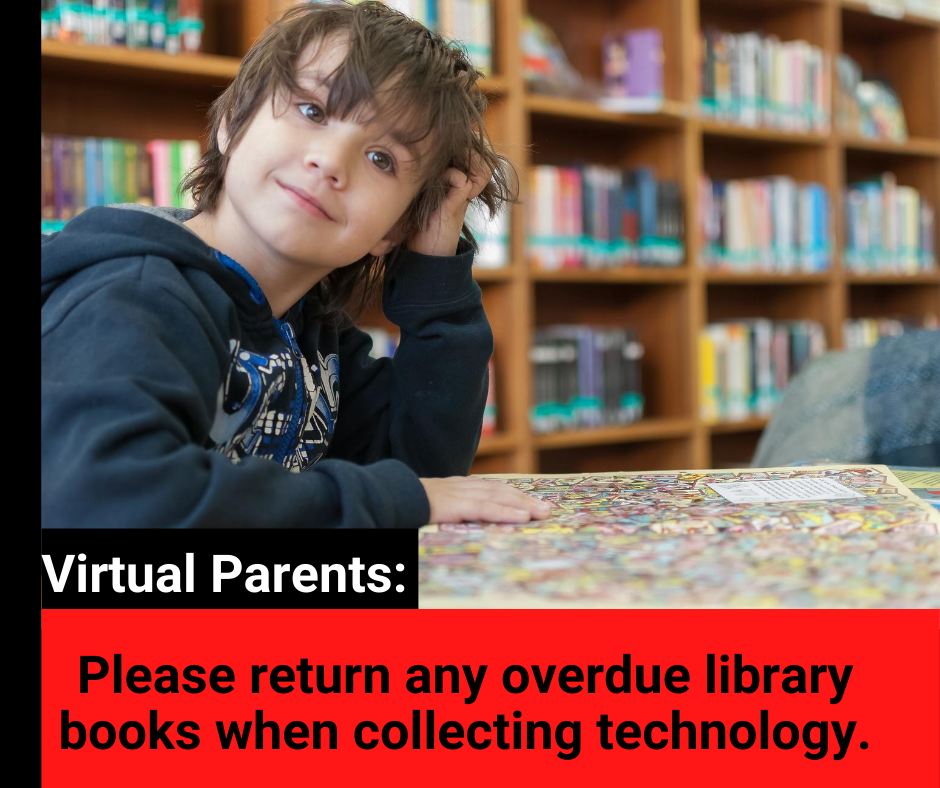 Attention Parents: If you have not yet made plans to pick up technology for your virtual student, please contact College Hill Elementary as soon as possible. 870.774.9111
Texarkana Emergency Center has donated lanyards for securing student masks. A very special "thank you" to Brook Marshall, doctors, and staff for your donation!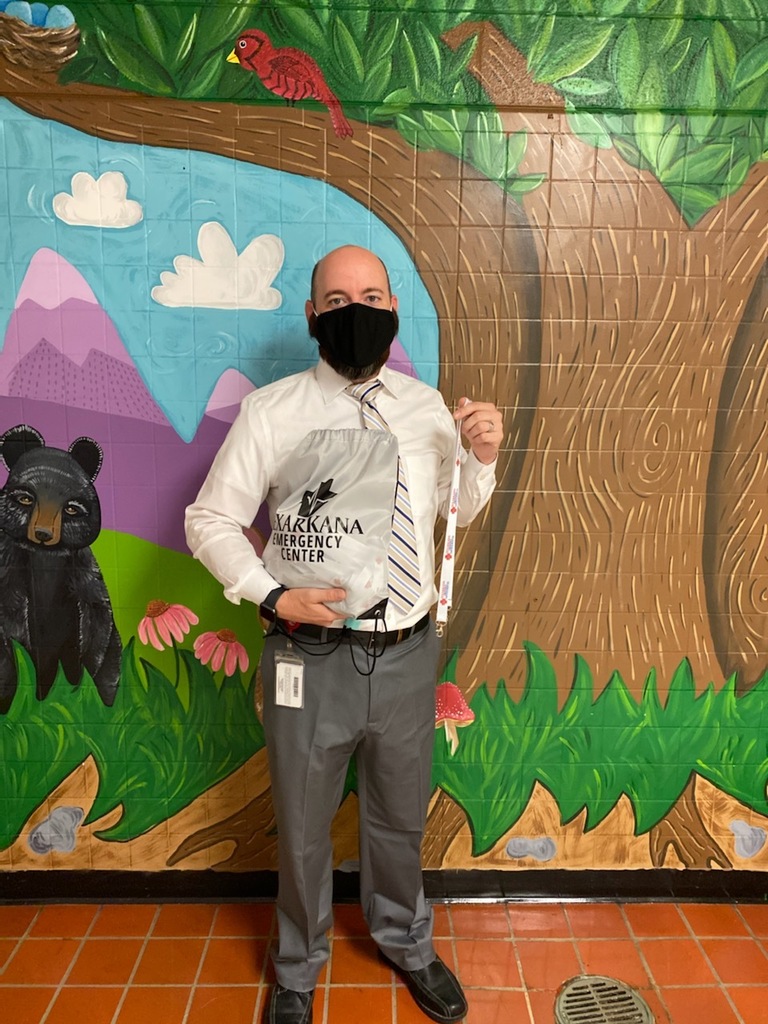 The United Methodist Women of the Texarkana Arkansas First United Methodist Church stopped by today with a gift of student and staff PPE. Thank you, ladies!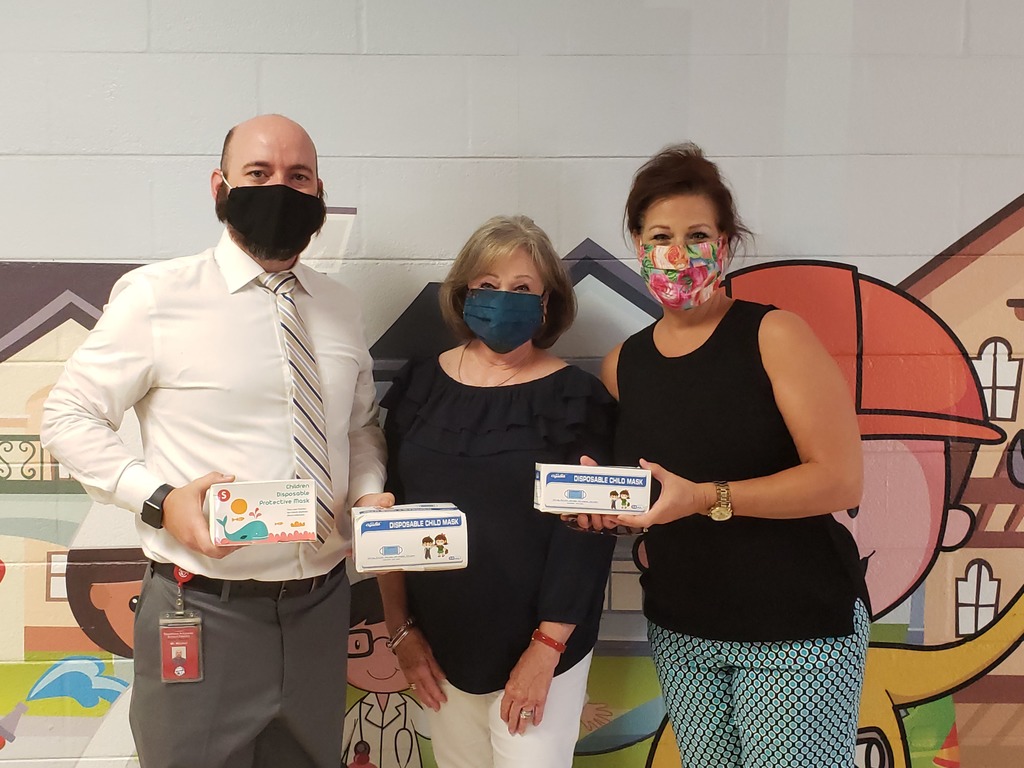 CHE teachers and staff are hard at work getting the school ready for our students! #CastleontheHill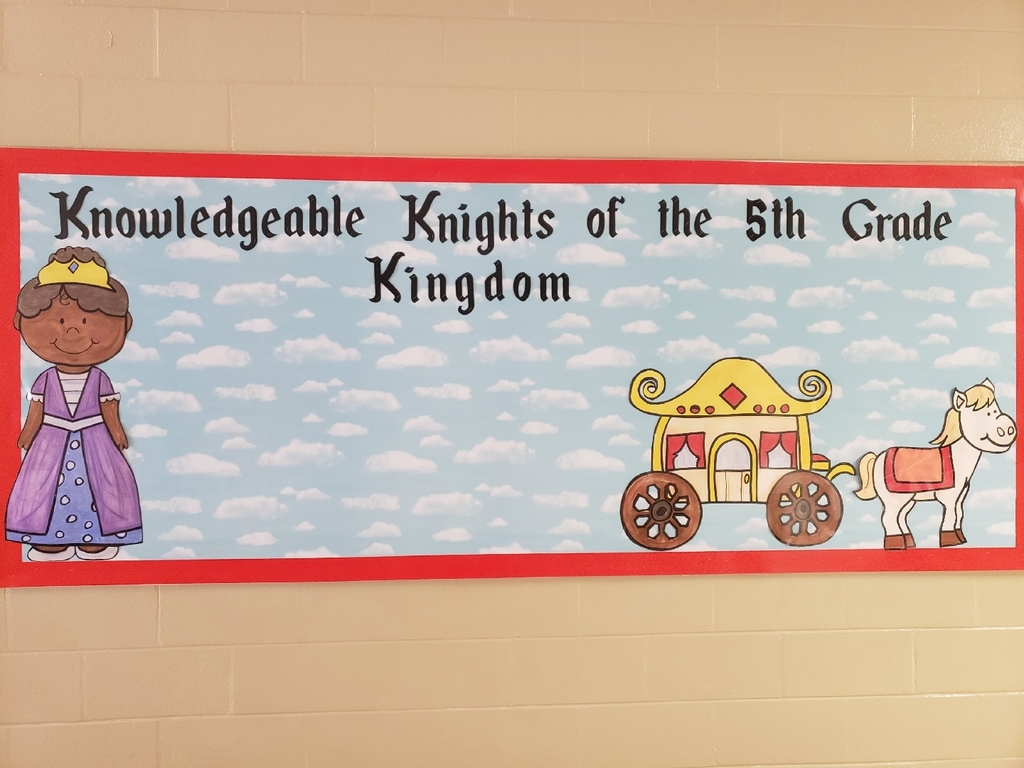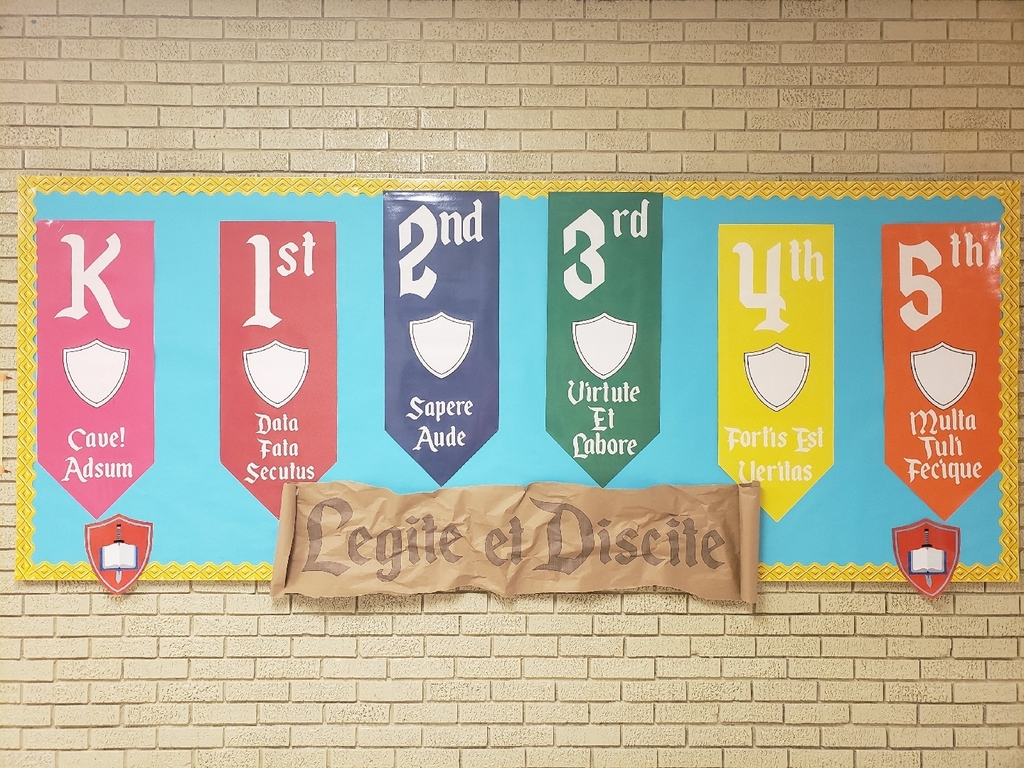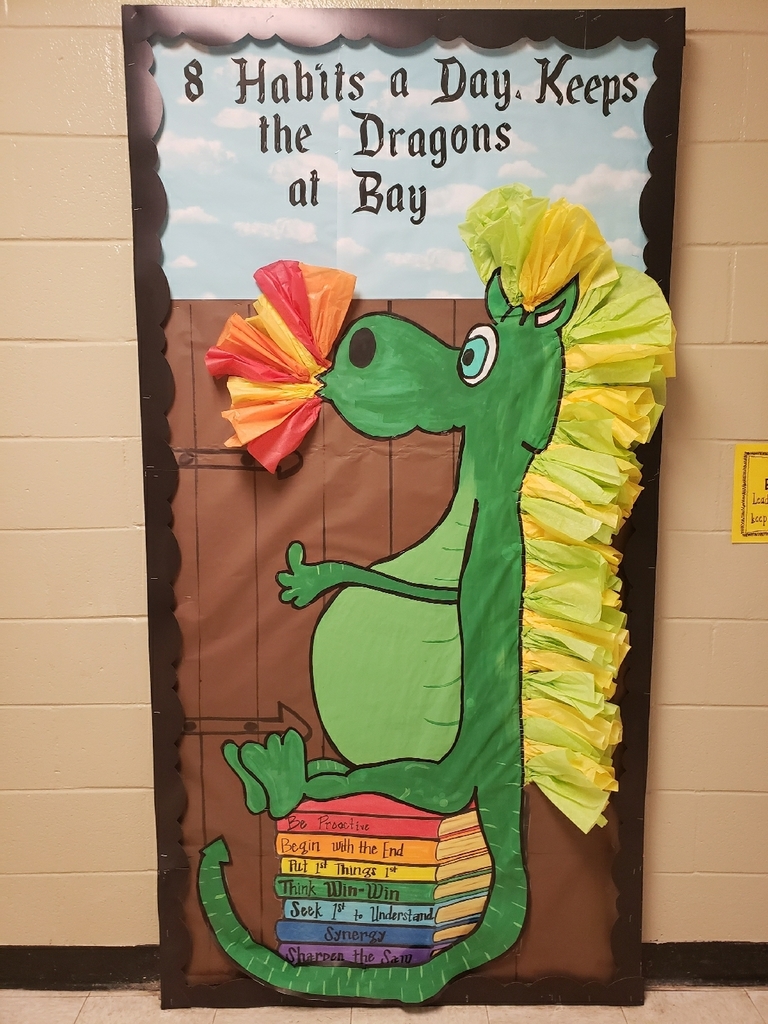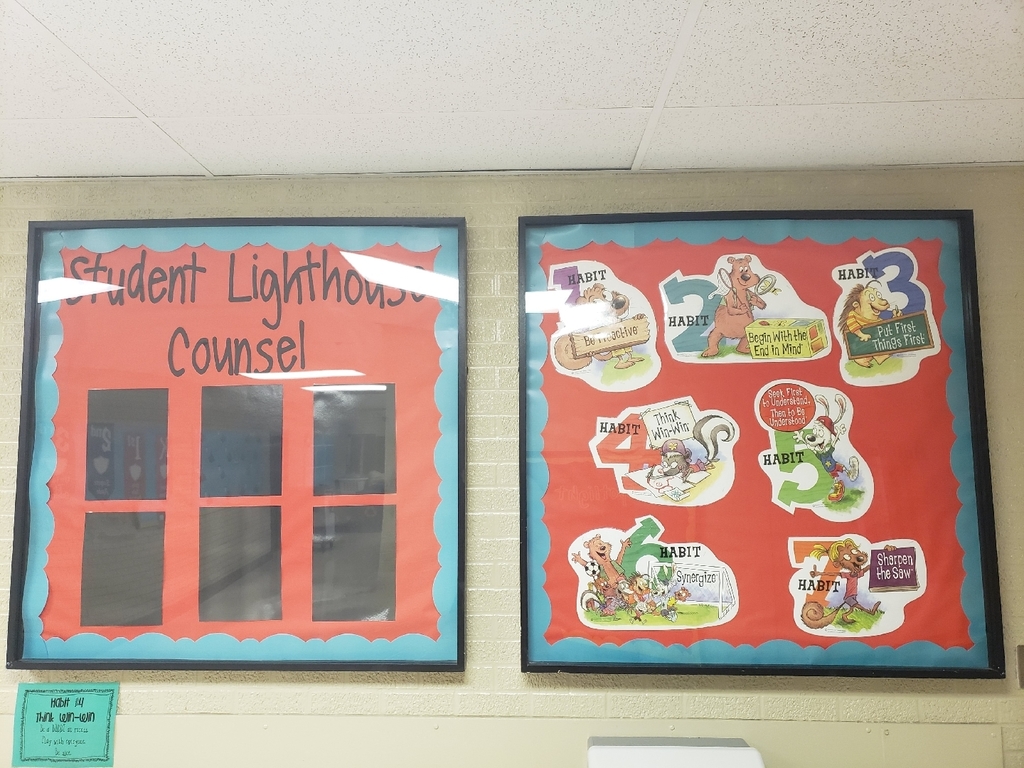 Check out Fifth Grade! #CastleontheHill
Even more amazing work from our dedicated staff! #CastleontheHill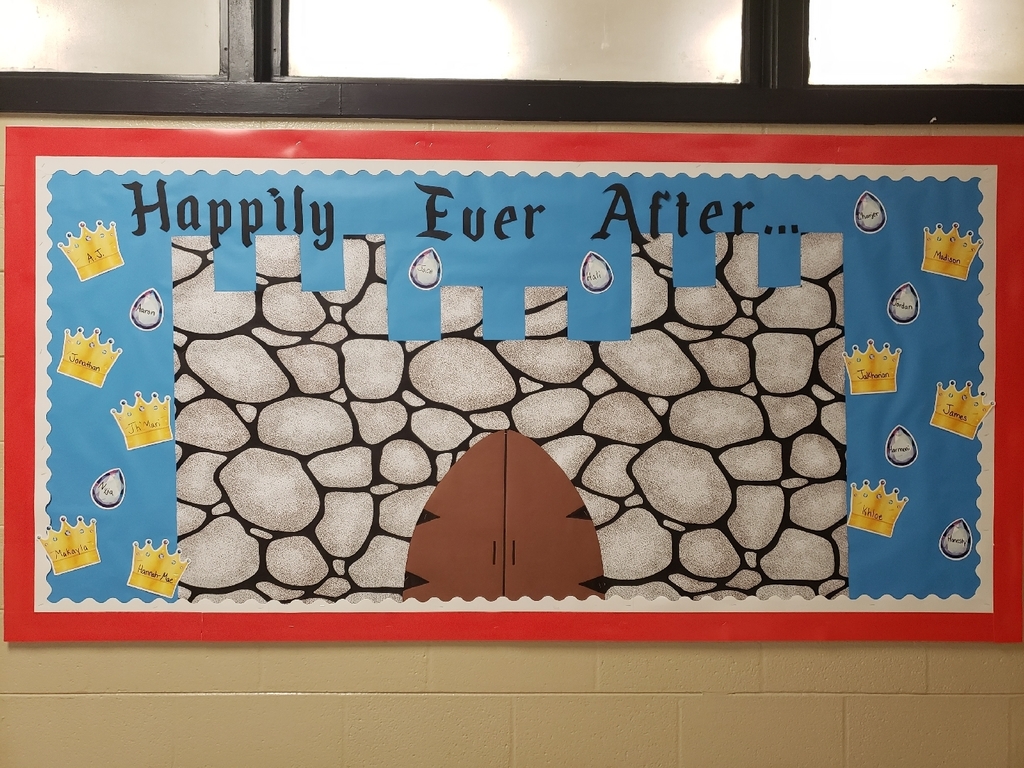 Thank You, Arvest Bank! Arvest Bank recently donated water bottles to all CHE students for the 2020-2021 school year.

New hand sanitizing stations are being set up around campus! #CastleontheHill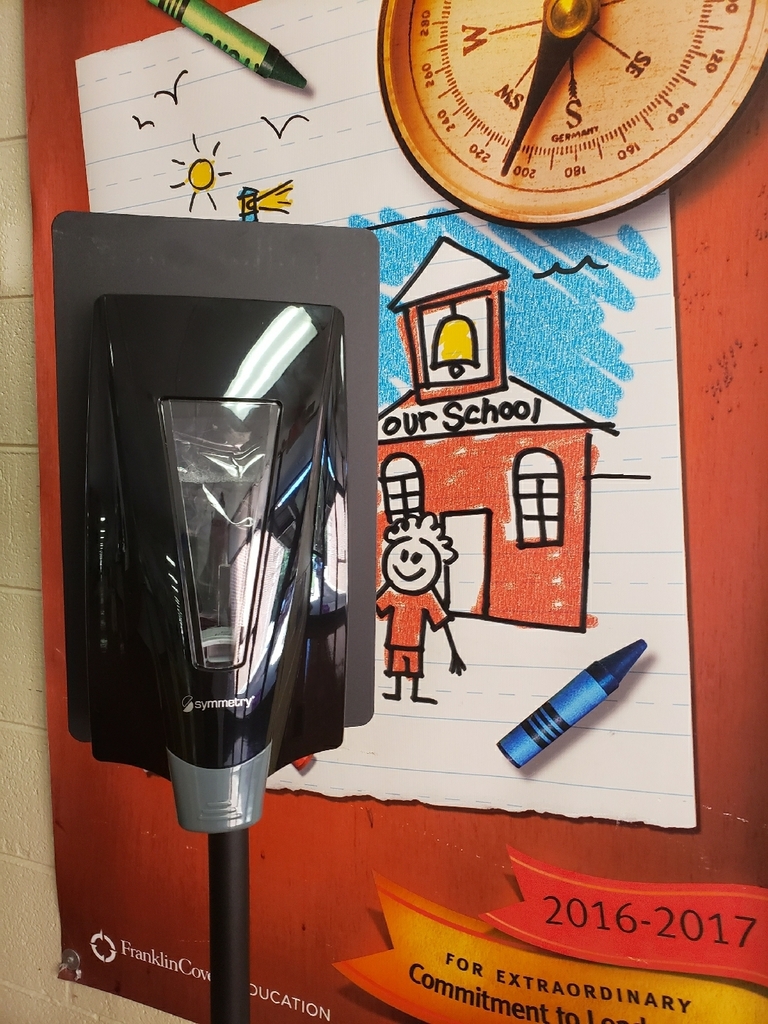 Substitutes Needed!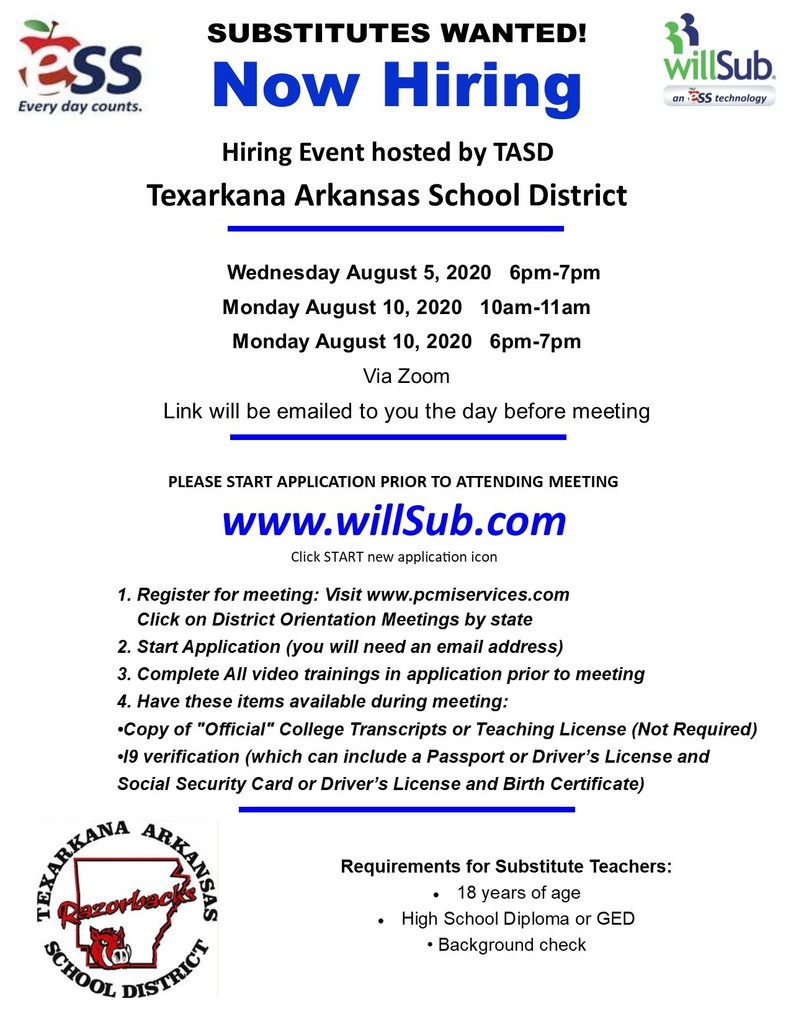 Congratulations to our very own Mr. Musgraves, Regional TOY!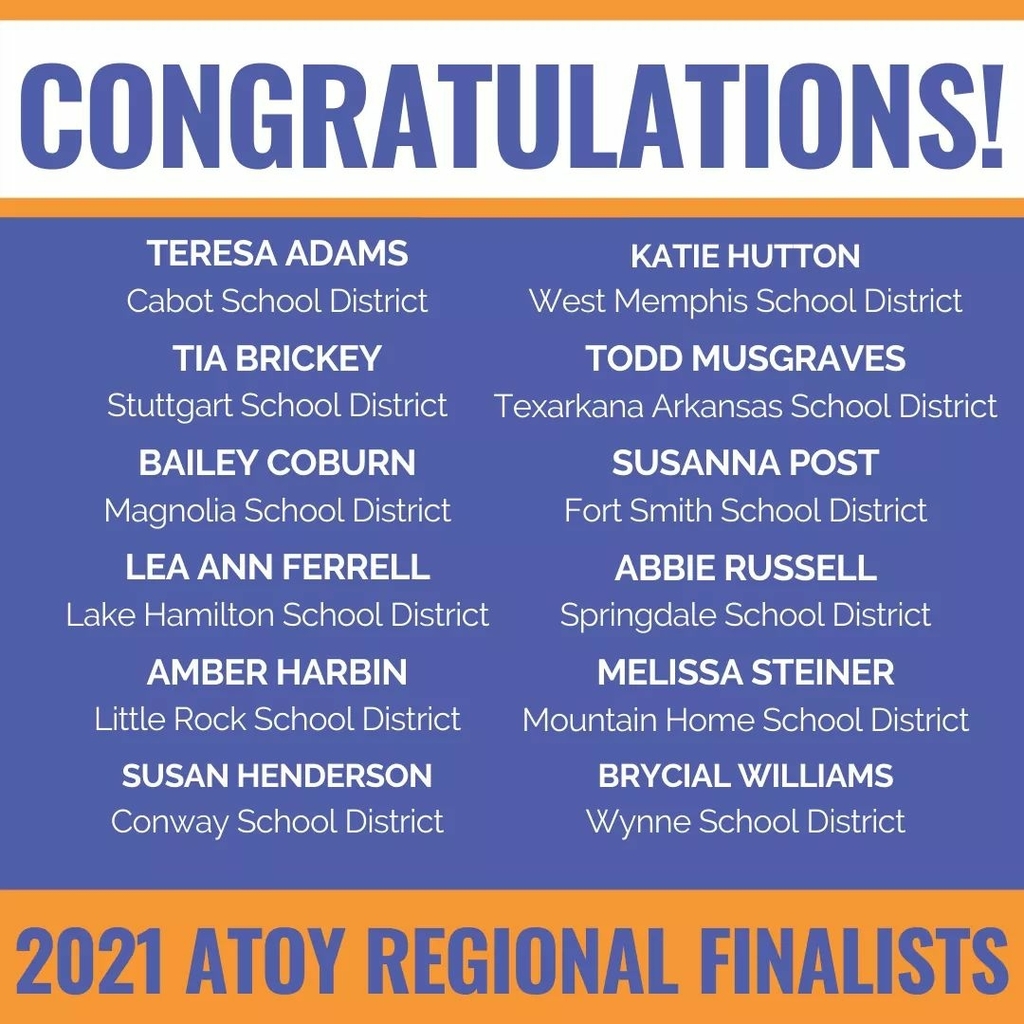 Welcome to the family!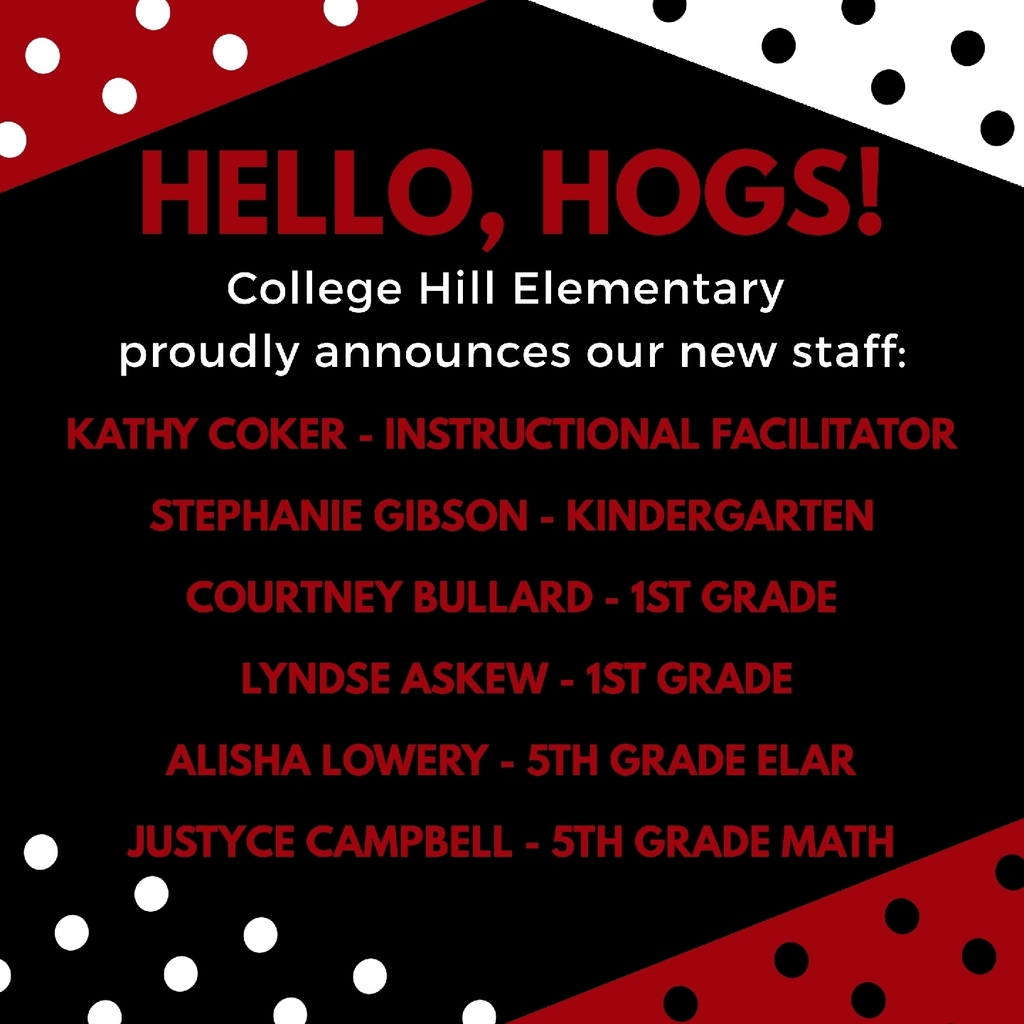 Make sure your students have the right tools to help them succeed!